My Training and Professional Qualifications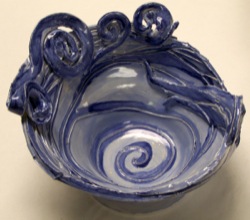 I am a Licensed Professional Counselor (LPC) and Registered Art Therapist (ATR). I completed my masters degree in Art Therapy/Counseling at Southwestern College in Santa Fe, New Mexico in 2008. I simultaneously completed a certificate program in Grief, Loss & Trauma from Southwestern College.
I have training and experience in various evidence based practices, including cognitive behavioral therapy (CBT), collaborative problem solving (CPS), and trauma focused cognitive behavioral therapy (TF-CBT). I have worked with children as young as 3 years old, grade school ages, adolescents, adults and seniors, and LBGTQ youth and adults. I have had the privilege of working with a variety of family dynamics; including couples counseling, family counseling, and sibling counseling.
My training in art therapy/counseling allows me to apply art therapy as an adjunct treatment in an effort to supplement your counseling experience. The application of art therapy allows for an increase in your communication process by allowing your unconscious to have a voice. This process can allow for further self-exploration and better understanding of yourself and the difficulties you may be enduring. By learning to truly listen to yourself you will also learn to trust yourself. This will allow you to move forward in your treatment so that you can learn to reflect, identify, and approach the underlying issue(s), thereby beginning a new focus on health and positive coping skills. I would like to help you begin this process of change, by gently guiding you through the counseling process. I would be happy to discuss how I practice and answer any questions or concerns you may have as well as to schedule your first appointment. You can contact me by phone or email, or via my online contact form, whichever is easiest for you! Your call and email are confidential.
I have worked with high risk youth and families in both crisis and preventive situations. Some of the diagnosis and mental health/behavioral health issues I have worked with include: posttraumatic stress disorder (PTSD) and trauma, victims of physical, emotional and sexual abuse, drug and alcohol abuse, eating disorders, reactive attachment disorder, family system difficulty, domestic violence, emerging borderline personality disorders in adolescents, self-harm, bipolar disorder, depression and anxiety, and grief and loss.